Main content starts here, tab to start navigating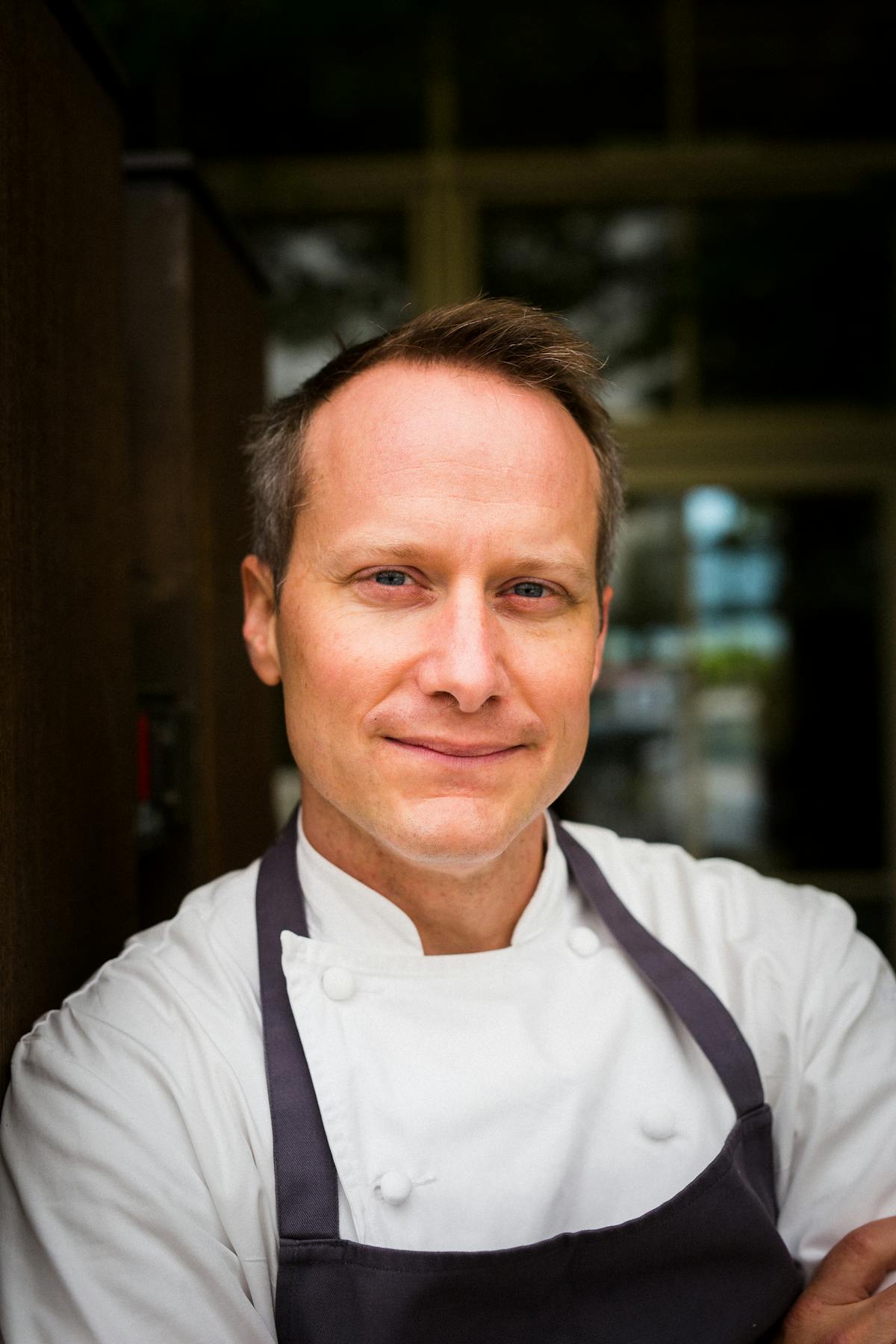 Philip Tessier
Executive Chef
He was the first American chef to ever ascend the podium triumphantly at the internationally renowned Bocuse d'Or, garnering the gleaming silver medal. With pride, he rose through the ranks at three of the world's most revered restaurants, Michelin three-starred Le Bernardin and Per Se in New York and The French Laundry in Yountville. Growing up in small town Williamsburg, VA, the second youngest child of a father who worked at the post office and a mother who taught school. Philip Tessier, 40, knew from a young age that he wanted to cook professionally at the highest levels and be the very best he could be. He was just unsure how to get there. "I had the mindset that I'd rather be at the bottom of the top than at the top of the bottom- there's always another mountain to climb other than the one you are on.'' Tessier says. "I've always wanted to work for or with the best; to learn and be part of a team. I was just fortunate enough to have chefs who pointed me in the right directions and to the right opportunities along the way.''
The value of teamwork and mentorship not only stayed with him, but magnified over the years. It's why after finishing second at the Bocuse d'Or in 2015 , he returned the following year to coach Team USA to its monumental gold medal victory. It's why he's now president of the Bocuse d'Or Academy of previous winners, working to make this prestigious Olympics of the food world even more impactful. And it's why after a seven-year hiatus, he decided to step back into the whirlwind restaurant world this year to helm the kitchen at PRESS Restaurant in St. Helena.
Among the actions he's already taken to reinvigorate the 15-year-old Wine Country restaurant is a kitchen remodel. He's transitioning the restaurant's focus from a classic steakhouse to a modern, refined American cuisine at par with the commanding caliber of Napa Valley wines in its cellar.
He's also hired an entirely new kitchen crew that includes alumni from Chicago's Alinea and San Francisco's In Situ, as well as colleagues who have loyally followed him over the years from his time at Bouchon and The French Laundry.
His appointment is apropos for a restaurant that's long nurtured the next generation of talent, ever since the late vintner Leslie Rudd founded it, as well as the Rudd Center for Professional Wine Studies at the Culinary Institute of America at Greystone in St. Helena, along with the Rudd Masters Roundtable scholarship program to aid prospective Master Sommeliers in achieving their dreams.
After all, Tessier knows first-hand how influential the right guiding hand can be. As a kid, he first fell in love with cooking on treks to the library with his mom, where she'd let him pick recipes from cookbooks to make with her at home. While his brother chose pizza bagels and s'mores, Tessier honed in on strawberry trifle and perogies.
At 16, he landed his first restaurant job – at the Williamsburg Inn in Virginia, where he worked his way up from garde manger to cooking on the breakfast line. At the suggestion of one of its cooks, Tessier enrolled at the Culinary Institute of America at Hyde Park at age 17, becoming one of its youngest students. After graduating, he stayed at the school for another year, working as a cook and server at its campus restaurant, and helping to teach new incoming students, before going to France on the advice of another colleague to stage with Roger Verge at his legendary Le Moulin de Mougins.
After returning to the United States, Tessier trained at Eric Ripert's Le Bernardin before being hired as a Sous Chef on the opening team of Per Se in 2004, then relocating to Yountville to continue his work with Chef Thomas Keller, first as Chef de Cuisine of Bouchon Bistro, then as Executive Sous Chef of The French Laundry.
While at the French Laundry, Keller invited Tessier to attend the Bocuse d'Or in Lyon in 2013, his first exposure to the mega event. "I walked in and was just in awe of everything – the sheer size of the venue, and the intensity of the crowd and the chefs,'' he recalls. "Watching the food come out was mesmerizing. I've always been someone who loved a good competition and it was difficult to see us miss the podium once again. I left the venue that day convinced that if we trained the best chefs in the US the way other winning countries trained, we had a good chance to win the Bocuse d'Or.''
After disappointing past showings by Team USA, there was little momentum going into the 2015 competition. "As far as I know, I was the only one in the United States who applied to do it,'' Tessier says. "On one hand, I thought, 'This is great! I'm the guy!' On the other hand, it doesn't leave you with a lot of confidence.''
Even so, Tessier hunkered down, training nonstop for a year and--utilizing the tenacity and skills he honed as a soccer athlete--for the 5 ½-hour competition, by far the hardest thing he's ever done. In the end, the gold medal eluded him by a mere 9 points out of 2,000. "We went from 30 years of not winning anything,'' he says, "To literally an arm's reach away from Mt. Everest.''
The Silver medal win for Team USA only served to propel him further. He not only went on to coach the next Team USA, but to help design a replica Bocuse d'Or kitchen first temporarily at Hestan, then permanently at the CIA in Napa. Tessier also was instrumental in ensuring future competitors have all the resources necessary during training, including more assistants. All in all, it established the model for Team USA going forward, an achievement of which he is incredibly proud, and documented in his book "Chasing Bocuse" published in 2017 by Prestel.
"We have a responsibility to give back,'' he says. "There's nothing more gratifying to encourage someone to grow from a starting point and transition into a better person, personally and professionally, and to succeed in their own way. It lives way beyond just your own success. As PRESS celebrates its 15th year, it becomes even more compelling for us to take on a larger mentorship role for our team and cement the restaurant's legacy for years to come. We want PRESS to become the restaurant where young cooks come to learn how to become great chefs."